Mazda CX5 Community - Part 1

Mazda CX5 Community - Part 1
Mazda CX-5 menurut gosip akan dipasarkan di indonesia bulan April - Mei 2012 dengan rentang harga 350jt-400jt ( dibawah CRV dikit atau di atas CRV dikit ) .
About Mazda CX-5
Quote:
The Mazda CX-5 [5] is an upcoming compact/small-family crossover SUV produced by Mazda starting 2012 for the 2013 model year lineup. It is Mazda's first car featuring the new KODO - Soul of Motion Design language[6] first shown in the Shinari concept vehicle in May 2010.[7] It is also the first vehicle featuring the company's Skyactiv Technology featuring a rigid, lightweight platform, combined with a new series of efficient engines and transmissions resulting in reduced emissions and fuel consumption. [8] The model was first shown at the September 2011 Frankfurt Motor Show.[9]
The CX-5 will be available with both front and all-wheel drive, powered by a 2.0 petrol four-cylinder engine (PE-VPS) sporting 162 bhp (121 kW; 164 PS)/155 lb·ft (210 N·m) averaging an estimated 48 mpg-imp (5.9 L/100 km; 40 mpg-US) emitting around 139 g/km.[10]. It will also be available with a 2.2 liter two-stage turbocharged diesel (SH-VPTS) with either 147 bhp (110 kW; 149 PS)/280 lb·ft (380 N·m) or 173 bhp (129 kW; 175 PS)/310 lb·ft (420 N·m), emitting an estimated 119 and 139 g/km, respectively. The EPA rated the CX-5's gas mileage as the best in its class, averaging 26mpg city and 35mpg highway, which Mazda claims is the best mileage of any non-hybrid SUV.[11] Fuel consumption for the entry-level diesel engine with front wheel drive is 63 mpg-imp (4.5 L/100 km; 52 mpg-US).[12][13]
The U.S. version of CX-5 is debuted at the Los Angeles Auto Show. The only engine available when the vehicle is released is a direct-injected, 2.0-liter four-cylinder Skyactiv-G gasoline engine with 155 bhp (116 kW; 157 PS), [14] which is less than the 163 bhp (122 kW; 165 PS) first reported.[15]
The Mazda CX-5 will replace the utilitarian Mazda Tribute in the compact SUV segment which had become among Mazda's less charismatic offerings[16] and the Mazda CX-7[17].
Beberapa fitur unggulan CX5
- 6 Airbags (front,side & curtain) -> moga2 gak dipangkas krn unit yg msk CBU japan
- Bose sound system with 9 speaker + USB
- Sunroof
- SKyactiv
Bbrp unggulan , 2ndrownya tergolong roomy banget , udah melebihi CRV 2012 sptnya ( data nyusul ) , secara dari dimensi juga spt crv , Ground Clearancenya gahar , 19cm-an . Kalah di bagasi aja ama crv , tp gak bgitu banyak juga. Nanti saya akan search di net utk comparingnya . abkalfulingg788 dan 10 lainnya memberi reputasi
Yuk bergabung agar dapat lebih banyak informasi yang dibagikan di Komunitas Kendaraan Roda 4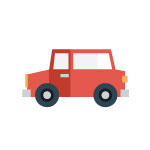 Kendaraan Roda 4