Introducing the Al Kafil-1: Iraq's New Main Battle Tank Built With Chinese Support
July-27th-2020
[hr]
Iraqi Al Kafil-1 Battle Tank
Iraq has unveiled its first indigenous class of battle tank to enter production since the overthrow of the Ba'athist government and U.S.-led invasion in 2003. The new Al Kafil-1 tank has established Iraq as one of three tank producers in the Middle East alongside Iran, with the Al Karrar, and Israeli with the Merkava series. It has also 
allowed Iraq to join Sudan as one of the only two producers of indigenous tanks in the Arab world. 
The Iraqi design was reportedly developed with Chinese support, and is closely based on the Type 59 platform which currently serves in the Chinese People's Liberation Army. The Type 59 has been in service in China since 1959, and is itself closely based on the Soviet T-54/55 which entered service in 1949. It remains uncertain to what extent the design has been upgraded for production in Iraq, although the Al Kafil appears to feature an entirely new turret which integrates
additional reactive armour, rear side anti-RPG chain protection, a remotely controlled weapon station armed with a heavy machine gun, and grenade launchers. The hull has received greater protection with new reactive armour and additional rear armour, and also features new mudguards.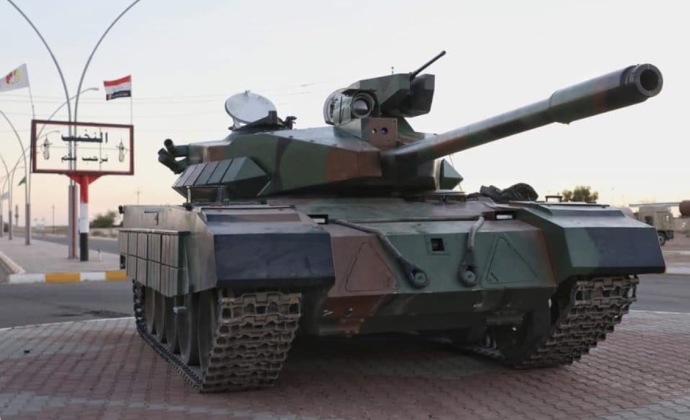 Iraqi Al Kafil-1 Battle Tank
The T-55/Type 59 has been one of the most popular tank designs in the world, and while less capable than newer designs such as the Chinese Type 96 or Russian T-72 it largely compensates with a low fuel consumption and ease of maintenance - making it particularly effective for maintaining internal security or fighting militants and insurgents. If equipped with modern penetrative munitions, which could be supplied by China, the tank can potentially threaten modern battle tanks with its 100mm cannon. 
The T-55 is currently in service in very large numbers in neighbouring Syria with over 2000 deployed, and Syria has received considerable assistance from North Korea to modernise the tanks with laser rangefinders, new armour and superior sensors allowing them to remain viable. Iraq currently deploys T-55 tanks alongside the T-72, although its elite units rely on the T-90MS platform ordered from Russia which is the most modern Russian tank offered for export. The country's defence ties with both China and Russia notably grew closer following the emergence of the Islamic State terror group as a major military power in the country in the summer of 2014, with the three all having a common interest in defeating the islamist insurgency. It is likely that Iraq will continue to receive Chinese assistance for its battle tank program, with cooperation with Beijing and Moscow providing an effective check on both Western and Iranian efforts to carve out spheres of influence in the country. The Al Kafil-1 may thus have successors in the future - likely with more
firepower
 - although it remains uncertain whether these will also be based on the Type 59 chassis.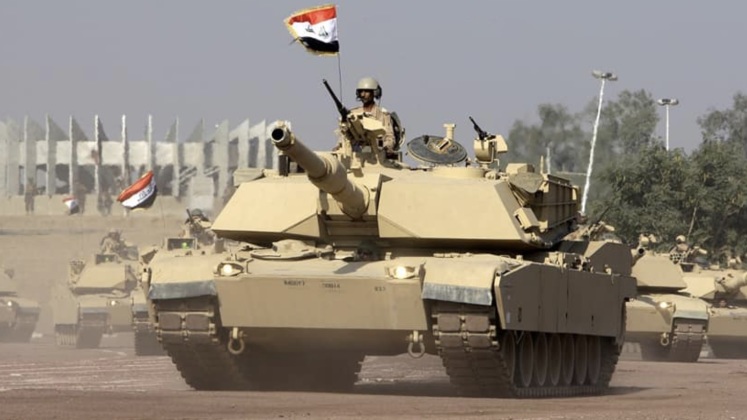 Iraqi Army M1 Abrams Battle Tank
Iraq previously relied on M1 Abrams tanks from the United States, but has increasingly sought to
phase these out of its more elite units
and has not placed followup orders for the platforms. One reason may be technical, as the
Abrams' engines are not well optimised for desert conditions
and its maintenance requirements and fuel consumption are very high. Another reason may be political. Despite relying on an almost completely U.S.-suppled inventory when its was established during the American-led military occupation period, Iraq's armed forces have quickly moved to reduce their reliance on Western arms with purchases from China, Russia and
South Korea
. This has reflected both widespread anti-Western sentiments in the country, parts of which are still seriously
contaminated by the depleted uranium shells
used by the U.S. Military, and the considerable restrictions placed by Western suppliers on the way certain weapons systems can be used. The latter has been particularly contentious issue given that the Iraqi government cooperates closely with Iranian backed militias and often shares equipment with them, despite these militias being considered U.S. adversaries. If produced on a large scale, the 
Al Kafil-1 could well serve in
militia
 units as well as the regular army, and will provide a very cost
effectively
 way of providing the country with a much needed expansion of its tank forces which are currently very small relative to the
number
 of ground units that are 
operational
. 
https://militarywatchmagazine.com/ar...hinese-support
negara baru keluar dari perang langsung punya indigenous tank

: