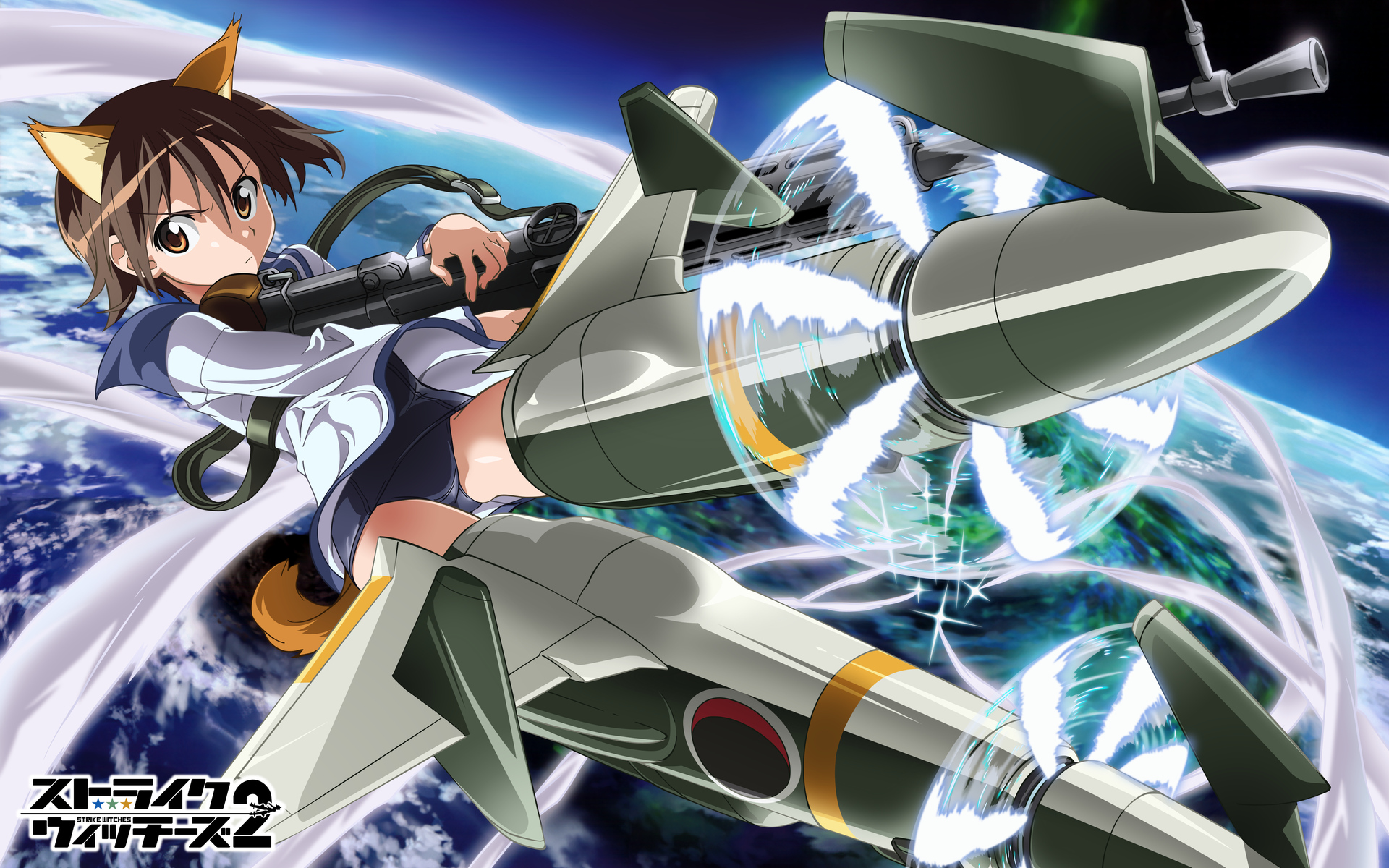 ~STRIKE WITCHES~
Quote: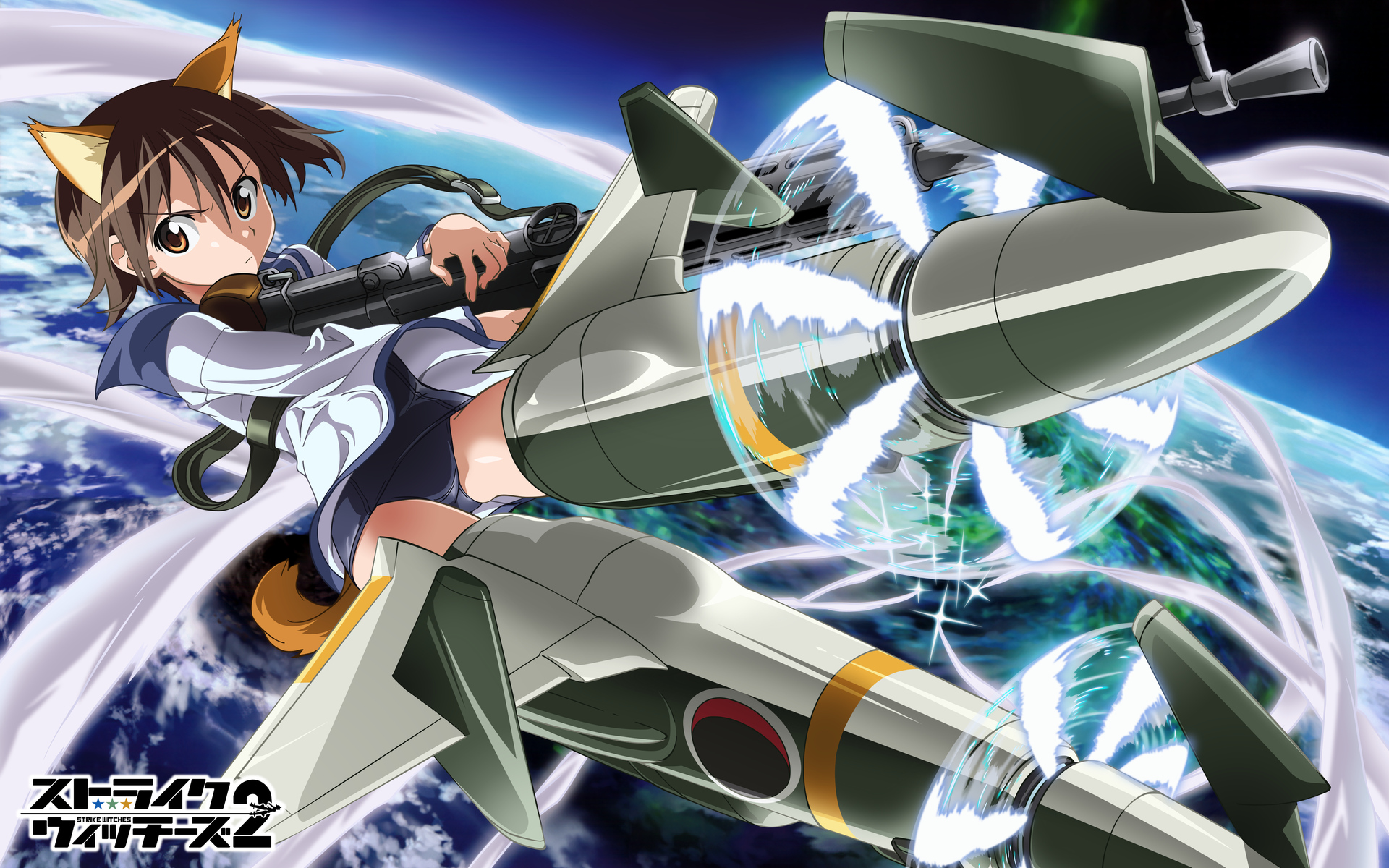 Quote: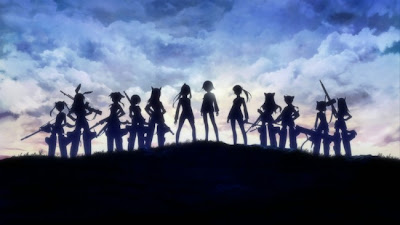 Season 1 intro

The year is 1944 and the world lives in fear of unidentified flying objects called Neuroi. With the old-boy old guard unable to thwart this deadly menace, humanity turns its desperate eyes to an aerial attack force with much nicer legs. Meet the girls of the 501st Joint Fighter Wing, better known as the Strike Witches. These darlings of the great blue yonder may not have standard issue uniforms, but they do have all the right stuff. Where the average flyboy falters, these dolls blast aliens to bits in the bat of an eyelash. With a little magic and a whole lot of leg, the girls of the 501st are winning the war on pants, and aliens!

Season 2 intro

After discovering that Neuroi are capable of communication with humans and making peace with the nest above Gallia the Witches squads are now on a mission to re-establish communication when a sudden attack vanishes the Neuroi; they now discover a new and massive nest that just appeared covering almost all Europe. Ruthless and without mercy it annihilates allied forces along with Witches. Word of the attack reaches Fuso and a support battalion is deployed to rescue the survivors. Among the rescue team is the former Striker captain Mio Sakamoto and the now civilian Yoshika Miyafuji who want to save their dear friends.

~INFORMATION~
Quote:

Type: TV
Episodes: 24 [S1 + S2]
Status: Finished Airing
Aired: Jul 4, 2008 to Sep 19, 2008 [S1] - Jul 8, 2010 to Sep 23, 2010

[S2]


Producers: Gonzo, FUNimation EntertainmentL, Kadokawa Shoten, The Klock Worx, NTT Docomo, 501st JOINT FIGHTER WING
Genres: Action, Ecchi, Magic, Sci-Fi, Military
Duration: 24 min. per episode
Rating: R+ - Mild Nudity
~CHARACTER OF 501 St SQUAD~
Quote: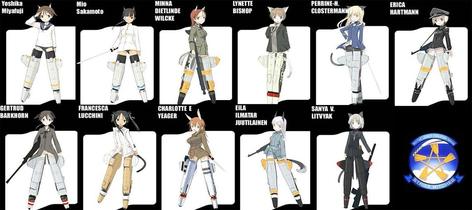 The members of the 501st Joint Fighter Wing.


Yoshika Miyafuji (宮藤 芳佳 Miyafuji Yoshika?)
Voiced by: Misato Fukuen (Japanese)
Yoshika is the 14-year-old protagonist of Strike Witches, hailing from the Fusō Empire. A typical young girl who comes from a family of clinicians who use their magic powers to heal people, Due to of her drive to help people in need, Yoshika's power grants her the ability to heal most injuries at a rate faster and more effective than most witches. Consequently, she also serves as the unofficial squadron medic, on hand ready to heal any injuries the other squadron members might suffer in combat and also deploy as a first-responder paramedic in an emergency. Furthermore, Yoshika's power allows her to erect a magic shield bigger and more powerful than most witches as well, big enough to entirely shield a flying boat that was transporting her and Mio to Romagna from a large-type Neuroi ambush. Yoshika is also able to concentrate her power into a smaller but more powerful shield and use it as a battering ram of sorts that is able to pierce through a Neuroi with a hardened body. Yoshika gains the features of a mame-shiba when using said power.
Before the events of the series, her father Ichirō designs the Striker Units the Strike Witches use to fight. However, because of her father's death in the war she is vehemently against fighting when Mio Sakamoto appears to recruit her. After helping to defend the Fusō fleet heading to Britannia from a Neuroi attack does, she decides to join the 501st, entering with the rank of Sergeant. Yoshika has a talent for cooking, but tends to care more about her food's health benefits than its taste, such as when she introduced the other Witches to nattō. Eventually, Yoshika loses her magical powers while stopping the Neuroi threat in Romagna, where she is promoted to the rank of Ensign. However, in Strike Witches The Movie, she manages to regain her powers and reunite with her teammates.

Mio Sakamoto (坂本 美緒 Sakamoto Mio?)
Voiced by: Saeko Chiba (2007-2010), Saori Seto (2010-present) (Japanese),
Mio is the first Strike Witch and sub-commander of the unit, with the rank of Major. Mio is also the oldest witch in the 501st at 19 years old and, as with Yoshika Miyafuji, comes from Fusō. She is seemingly the toughest and most mature of the Witches, being an experienced veteran of the early fighting against the Neuroi. Years before the events of the series, she befriends Yoshika's father Ichirō while he is first designing the Striker Unit and becomess the first person to pilot one. Her usual task is to train new recruits, and in this role she becomes a very strict disciplinarian, appropriately gaining the ears and tail of a Doberman when equipped with her Striker. Otherwise she is quite friendly, if a little too forward at times, with a very distinct laugh. Under Mio's eyepatch is a magic eye that grants her increased visual prowess and the ability to spot Neuroi cores when used. Being in her older teens, Mio's magical power has declined too far for her to erect effective shields in combat, however she can still fly and use her magical eye.

Minna-Dietlinde Wilcke (ミーナ・ディートリンデ・ヴィルケ Mīna Dītorinde Viruke?)
Voiced by: Rie Tanaka (Japanese),
Minna is the 18-year-old leader of the 501st Joint Fighter Wing from Karlsland with the rank of Commander. Minna has a sisterly air that shows her concern for those under her command. Whether in or out of battle, her first priority is the safety of her subordinates. Her more gentle demeanor means that she often acts as the "good cop" to Mio Sakamoto's "bad cop" when it comes to discipline. She also has a talent for singing, wanting to become a professional before she joins the war effort before the beginning of the series. However, she gives up that dream when her lover is killed in battle. Out of fear from losing anybody else, Minna gives an order prohibiting the male workers on the base from having unauthorized contact with the witches. She is also rather protective of Mio, usually standing in her way whenever she tries something reckless. Alluding to her namesake, Minna gains wolf features when equipped for combat. Her power grants her enhanced spatial awareness, allowing her to pinpoint the precise location and number of objects in a wide area of space.

Lynette Bishop (リネット・ビショップ Rinetto Bishoppu?)
Voiced by: Kaori Nazuka (Japanese),
Lynette, also called "Lynne", is the only Witch in the 501st who is native to the Britannian Commonwealth. As the middle child of eight siblings, Lynette develops very domestic and practical habits from helping to take care of them. Similarly domestic is the Scottish Fold, from which her Striker-equipped animal features are based. Plagued by occasional clumsiness and sometimes overlooked, she nevertheless strives to do her best. After meeting Yoshika Miyafuji, the two eventually become best friends. Lynnette holds the rank of Master Sergeant and her affiliation is the Britannian Air Force 610th Fighter Squadron. Her armaments are a Mk. I Boys anti-tank rifle and a Bren light machine gun. She serves as the squadron's sharpshooter and possesses an ability to supercharge magic power into shots she fires. Her Striker Unit is based on the Supermarine Spitfire Mk IX, later a Supermarine Spitfire Mk 22, and her pilot archetype is unclear, but is likely one of the children of Billy Bishop, who is the pilot archetype for Minnie Bishop, Lynette's mother. Lynette also has an older sister, Wilma, who is also a Strike Witch, and likely based on Billy Bishop's son, Arthur.

Perrine H. Clostermann (ペリーヌ・クロステルマン Perīnu Kurosuteruman?)
Voiced by: Miyuki Sawashiro (Japanese),
Perrine is a wealthy and proper 15-year-old heiress to a powerful and influential Gallian family who looks down on some of the less-refined habits of her peers. This haughtiness though hides a softer, more considerate personality and she really does care for the safety of her colleagues. Years before the series' present, the Neuroi's conquest of her homeland traumatizes her and has caused her numerous problems at times. She often refuses to work as part of a team, and develops a dislike for Yoshika Miyafuji due to her attachment to Mio Sakamoto. This eventually develops into full-blown jealousy, causing her to challenge Yoshika to a duel. Over time, Perrine is able to warm up considerably to Yoshika, albeit that she still acts haughty whenever Yoshika does things or acts in a manner she considers less refined. Perrine feels that she is responsible for the reconstruction and rehabilitation of Gallia after its liberation from the Neuroi and contributes her entire salary towards this end. She has also donated the use of her ancestral lands for agriculture and family castle as a school and sanctuary for children orphaned by the war. When wearing her Striker Unit, she gains the dark ears and tail of a Chartreux. Perrine holds the rank of First Lieutenant and her original unit was the Forces Aériennes Galliaises Libres 602nd Flying Corps. She carries a rapier in artwork, which briefly appeared on episode 9 of the second season as an heirloom from her family.

Erica Hartmann (エーリカ・ハルトマン Ērika Harutoman?)
Voiced by: Sakura Nogawa (Japanese),
Erica is Karlsland's 16-year-old "ultra ace" of the Luftwaffe JG 52 with more than 200 confirmed victories and the rank of Captain. While extremely efficient and strategic in battle, Erica is very messy with her belongings and often neglects cleaning chores. She is very slack, has a nonchalant attitude for military discipline and is the type of person who is only serious when the situation calls for it. Consequently, she is the frequent target of the strait-laced Barkhorn's disciplinary lectures but she normally ignores and tune it out. Her special technique is an offensive barrel roll named Sturm which manipulates gusts of ether to attack enemies.In the movie, Hartmann has been seen combining her Sturm ability with Perrine's Tonnerre attack, creating an attack which more than double their effectiveness.

Gertrud Barkhorn (ゲルトルート・バルクホルン Gerutorūto Barukuhorun?)
Voiced by: Mie Sonozaki (Japanese),
Gertrud is an 18-year-old Witch originating from Karlsland with the rank of Captain formerly of the Luftwaffe JG 52. Quiet, efficient, and private, Gertrud (known as "Trude" to her friends) tends to support her comrades from the shadows. Her naturally calm attitude grants her great battlefield stamina, allowing her to rack up an impressive shot-down tally. A long-time acquaintance of Minna-Dietlinde Wilcke and Erica Hartmann, she is often seen supporting the former in her leadership tasks and chastising the latter for her sloppiness. In the second season, Barkhorn divided her room, which she shares with Hartmann, straight down the middle with a picket fence which she dubs her Siegfried Line to separate her side of the room from Hartmann's messy, unruly side. She has a younger sister named Christine Barkhorn who was badly injured during the Neuroi invasion of her country and vaguely resembles Yoshika Miyafuji, and she often has a complete change in personality whenever she is brought up. Her magical power grants her the most physical strength of all the Witches to the extent where she can lift a steel girder many times her size.

Francesca Lucchini (フランチェスカ・ルッキーニ Furanchesuka Rukkīni?)
Voiced by: Chiwa Saitō (Japanese),
Lucchini is the youngest soldier of the 501st at 12 years old, having joined the unit from the Duchy of Romagna. With a rank of Ensign, her unit affiliation was with Romagna's Sovrana Aeronautica Romagniana 4th Air Unit. Lucchini is often childish and self-indulgent, shirking training and other duties in order to have fun around the base or nap. However, in battle she displays a true talent and passion for flying. Also displayed are the ears and tail of a black leopard. She is good friends with the similarly casual Charlotte Yeager, often pairing with her in battle where she is thrown at high speed to defeat Neuroi. She has a tendency to occasionally speak in a sing-song tone. During battles she carries a M1919 A6, Breda-SAFAT 12.7 mm machine gun, or Beretta Model 1938A. She has the power to concentrate energy into a point in front of her, and release it in one powerful burst. Working with her best friend Charlotte Yeager, who throws her, she can use this ability to greatly damage an enemy. Her Striker Unit is based on the Fiat G.55 Centauro, and her ace archetype is Franco Lucchini.

Charlotte E. Yeager (シャーロット・E・イエーガー Shārotto Ī Iēgā?)
Voiced by: Ami Koshimizu (Japanese),
Charlotte, also called "Shirley" (シャーリー Shārī?), is a 16-year-old girl hailing from the United States of Liberion with the rank of Flight Lieutenant. Magnanimous in character, tall and buxom in appearance, Charlotte is a thrill-seeker who is fascinated by speed. Like a speedy hare, she gains the ears and tail of a rabbit when equipped with her Striker, possibly alluding to model and photographer Bunny Yeager. Concerned with cleanliness, Charlotte has her personal bath transported to the Strike Witches' Britannia base when she is transferred from the Liberion Army 363rd Fighter Wing years before the events of the series. In combat her armament can consist of a M1918 Browning Automatic Rifle, Thompson M1 A1, or Colt Government M1911 A1; also depicted carrying a Bowie knife. The North American P-51D Mustang serves as the basis for her Striker Unit that she nicknames Merlin, while Charlotte is based on Chuck Yeager. Her magical ability allows her to enhance her Striker Unit's performance and increase her airspeed exponentially, giving her the responsibility to pursue and destroy high-speed Neurois. As with her namesake, Charlotte becomes the first person to break the sound barrier making her the fastest Witch ever. Before joining the 501st, she also establishes herself as a motorcycle racer who breaks the land speed record at the Bonneville Salt Flats using a modified Indian motorcycle identical to one used by legendary New Zealand speed bike racer Burt Munro in the 1950s.

Eila Ilmatar Juutilainen (エイラ・イルマタル・ユーティライネン Eira Irumataru Yūtirainen?)
Voiced by: Ayuru Ōhashi (Japanese),
Eila is the 15-year-old top-ranking ace of the Suomus Air Force 24th Unit with the rank of Ensign (although the three roses on her collar would indicate the rank of captain). Eila's hobby is fortune-telling with tarot cards, although the accuracy of her predictions is questionable at best. In battle however, she literally has the magical power of seeing into the future, allowing her to evade incoming attacks with ease. Somewhat mischievous, like the black fox whose features she gains in flight. She is particularly affectionate towards Sanya Litvyak and becomes cold to anyone who comes too close to her, this usually being Yoshika Miyafuji. In combat her weapons of choice are the MG42 and Suomi M1931 submachine gun. Eila's Striker Unit is based on the Messerschmitt Bf 109 G-2, later a Messerschmitt Bf 109 K-4, and she is based on Eino Ilmari Juutilainen. She has an older sister named Aurora E. Juutilainen, based on Eino's older bother, Aarne Edward Juutilainen. Her middle name may be based on the Ilmatar of Finnish mythology.

Sanya V. Litvyak (サーニャ・V・リトヴャク Sānya Bui Ritovyaku?)
Voiced by: Mai Kadowaki (Japanese),
Sanya, whose real name is Alexandra Vladimirovna Litvyak (アレクサンドラ・ウラジミーロヴナ・リトヴャク Arekusandora Urajimīrovuna Ritovyaku?), is the sole Witch in the 501st out of the Orussian Empire at 13 years old. Preferring to stay indoors during the day, Sanya has been described as "nocturnal." At times she is literally asleep on her feet, counting on Eila Ilmatar Juutilainen to move her around. She has a habit of stumbling into Eila's room to fall asleep in after missions. Despite this somewhat limiting her contact with the other members of the 501st, her low profile makes her ideal for night missions. Also helping her in this duty is her magical specialty, the ability to read signals such as radio waves that are invisible to the naked eye, giving her a highly advanced spatial awareness. Sanya gains the ears and tail of a black cat with her Striker Unit equipped. The green brackets that form around Sanya's head are reminiscent of the radar antennae found on night fighters during World War II, further reinforcing her nocturnal nature. Sanya's rank is Lieutenant and her original unit affiliation is the Orussian Imperial Army 586th Fighter Regiment. Her weapon of choice is a modified Fliegerfaust called the "Fliegerhammer." Her Striker Unit design is based on the MiG-60 (a fictional warbird combining features of the Mikoyan-Gurevich MiG-1 and MiG-3, and Yakovlev Yak-1), later a MiG I-225 (a fictional warbird based mainly on the MiG-3), and her pilot archetype is Lydia Litvyak. Sanya is often key in special missions and is one of the more powerful witches despite her relatively small role played in the fighting in the day. The reason Sanya cannot fight in the day is due to the fact that when the witches fly they use up "Magic power" this power is used to power their "Striker Units" which give them the ability to fly. Sanya uses up her magic in the all night patrol and is therefore rarely involved in daylight missions and only is when it is pre-planned or is of utmost importance.

MEMBER CHART~


WITCHES CHART

:


Quote:
SEASON 1 OEPNING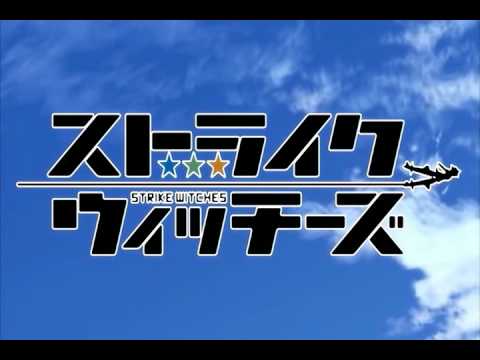 SEASON 2 OPENING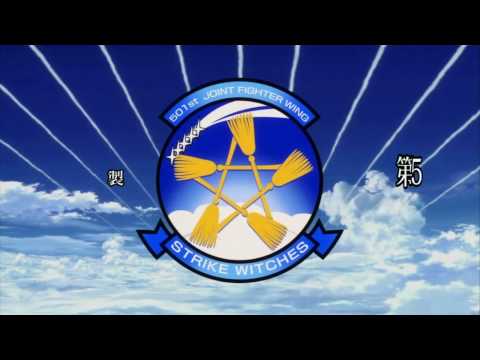 =============================================
"Strike Witches" Season 3 & OVA Confirmed
Quote:
Following two seasons of success and a fantastically received film, the tactical unit of pants-less females protecting the skies, Strike Witches, has just been confirmed for a third season and an OVA.
Great news for the series' vast fanbase of course – and the fanbase is indeed among the grandest in size. This is one of the higher quality fanfare action shows around – delivering what is indeed a legitimate story experience, whilst also still satisfying all manner of perverse craving for female lower body and chest. Coupled with designs by Humikane, it's no wonder this recipe for success keeps working every time.


==
Download Link :