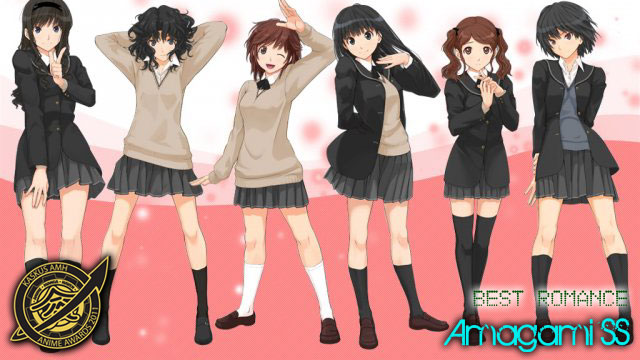 Best AMH Romance Anime 2011
Best AMH Imouto Character 2011 (Tachibana Miya sharing with Kousaka Kirino)


Nominated for AMH Anime Award 2011 Category:
- Best AMH Anime 2011

Description
Produced by Enterbrain of Kimikiss fame, Amagami is another love story about a boy (you) finally plucking up his courage to go ask the girl of his dreams out.
Due to a traumatic experience in the past, Christmas is a time that troubles you most. However, you know that this is your last chance to ask your crush out, as this is her last year of high school. Is it alright to leave your crush as nothing more than a mere crush?
Get your acts together and leave your shell. Who will you end up with in the end? The elite class representative? The sweet underclassman or the senior you've always had a crush on?
The story of the anime will be arranged in an omnibus format, with each heroine getting her own version of the story animated
. Each heroine will sing her own version of the ending theme song.
Features extremely clean artwork, great character designs, and a good story and character interaction.
Genres :
romance
Vintage:
2010-07-01
Animation Production :
AIC
Opening Theme:
"i Love" by azusa
Ending Theme:
#1: "Kimi no Hitomi ni Koishiteru (キミの瞳に恋してる

" by Shizuka Itou
#2: "Kitto Ashita wa... (きっと明日は…)" by Rina Satou
#3: "Anata Shika Mienai (あなたしか見えない

" by Hiromi Konno
#4: "Koi wa Mizu-iro (恋はみずいろ

" by Yukana
#5: "Koi wa Aserazu (恋はあせらず

" by Ryoko Shintani
Episode List :
ep. 1-4 Morishima Haruka arc
ep. 5-8 Kaoru Tanamachi arc
ep. 9-12 Nakata Sae arc
ep. 13-16 Nanasaki Ai arc
ep. 17-20 Sakurai Rihoko arc
ep. 21-24 Ayatsuji Tsukasa arc
Characters
Official websites:
Manga Related
Amagami - Precious Diary
Amagami - Love Goes On!
Amagami Sincerely Yours
Trailers
Amagami SS Social Gropup
AMAGAMI SS SEASON 2!!!
Code:
http://www.animenewsnetwork.com/news/2011-08-13/amagami-ss-anime-gets-2nd-season
Trailer
http://www.kaskus.co.id/showpost.php...postcount=5646