The Pokémon anime series and films are a meta-series of adventures separate from the canon that most of the Pokémon video games follow (with the exception of Pokémon Yellow, a game based loosely on the anime storyline). The anime follows the quest of the main character, Ash Ketchum (known as Satoshi in Japan) a Pokémon Master in training, as he and a small group of friends travel around the fictitious world of Pokémon along with their Pokémon partners. The original series, titled Pocket Monsters, or simply Pokémon in western countries (often referred to as Pokémon: Gotta Catch 'Em All to distinguish it from the later series), begins with Ash's first day as a Pokémon trainer. His first (and signature) Pokémon is a Pikachu, differing from the games, where only Bulbasaur, Charmander, or Squirtle could be chosen.The series follows the storyline of the original games, Pokémon Red and Blue, in the region of Kanto. Accompanying Ash on his journeys are Brock, the Pewter City Gym Leader, and Misty, the youngest of the Gym Leader sisters from Cerulean City. Pokémon: Adventures in the Orange Islands follows Ash's adventures in the Orange Islands, a place unique to the anime, and replaces Brock with Tracey Sketchit, an artist and "Pokémon watcher". The next series, based on the second generation of games, include Pokémon: Johto Journeys, Pokémon: Johto League Champions, and Pokémon: Master Quest, following the original trio of Ash, Brock, and Misty in the western Johto region.
The saga continues in Pokémon: Advanced Battle, based on the third generation games. Ash and company travel to Hoenn, a southern region in the Pokémon World. Ash takes on the role of a teacher and mentor for a novice Pokémon trainer named May. Her brother Max accompanies them, and though he isn't a trainer, he knows large amounts of handy information. Brock (from the original series) soon catches up with Ash, but Misty has returned to Cerulean City to tend to her duties as a gym leader (Misty, along with other recurring characters, appears in the spin-off series Pokémon Chronicles). The Advanced Battle series concludes with the Battle Frontier saga, based on the Emerald version and including aspects of FireRed and LeafGreen.
The Advanced Generation series ended with Max leaving to pick his starter Pokémon, and May going to the Grand Festival in Johto.
In the Diamond and Pearl series, based on the fourth generation games, Ash, Brock, and a new companion, an aspiring Pokémon coordinator named Dawn traveled through the region of Sinnoh. In the end of the series, Ash and Brock returned to their home region where Brock started to follow his newfound dream of becoming a Pokémon doctor himself.
Pocket Monsters: Best Wishes!, based on the fifth generation games, Pokémon Black and White, is the newest installment of the Pokémon anime series being broadcast only Japan and the United States. It features Ash and Pikachu traveling through the new region of Unova (Isshu in Japan) along two new companions, Iris and Cilan (Dent in Japan).
In addition to the TV series, fourteen Pokémon films have been made, with the pair of films, Pokémon the Movie: Black—Victini and Reshiram and White—Victini and Zekrom considered together as one. There is currently a fifteenth movie in the making. Collectible bonuses, such as promotional trading cards, have been available with some of the films.
The XY series (Japanese: ポケットモンスターXY(エックスワイ) Pocket Monsters XY) is the fifth series of the Pokémon anime, following after the Best Wishes series, and based on the events of the Generation VI games. It premiered on October 17, 2013 in Japan, and January 18, 2014 in the United States, though the first two episodes were aired as a preview in the United States on October 19, 2013.
As with the previous three series, the XY series began with only Ash Ketchum, headed off to a new region with his Pikachu while wearing a new set of clothes. His previous companions, Iris and Cilan, left the series. Joining him this time are Serena, a new Trainer who previously met Ash in her childhood; Clemont, an aspiring inventor and scientist who is also the Gym Leader of the Lumiose Gym; and Bonnie, Clemont's younger sister. Jessie, James and Meowth continue to follow Ash and his friends through the Kalos region, and have gone back to their more traditional methods of capturing Ash's Pikachu and other Pokémon. Jessie's Wobbuffet returns to her roster. This series also features a series of side story episodes following the adventures of a trainer named Alain, who is working to find Mega Stones and defeat all Mega Evolutions using his Mega Charizard X.
It is currently unknown how many seasons the series will be divided into for audiences outside of Japan.
THE CHARACTER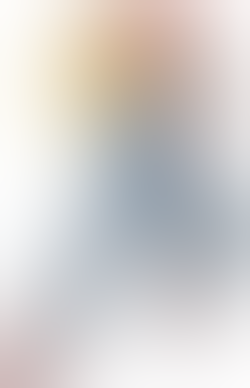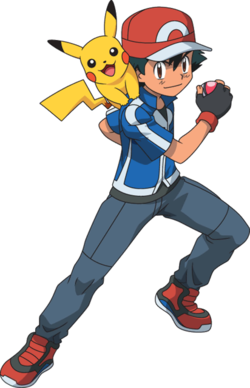 Ash has always dreamed of becoming a Pokémon Master and as soon as he hit the age of 10 he rushed to Professor Oak's Laboratory to get his first Pokémon. Originally wanting to choose Squirtle, Ash ended up getting the Pokémon Pikachu and left on his journey. Starting off as a completely unskilled trainer, Ash managed to go through, with the assistance of his friends Misty & Brock and capture new Pokémon and defeat the gyms in Kanto, allowing him to enter in the Pokémon League. Since then he has continued to travel, make new friends and capture new Pokémon while still following his goal of becoming a Pokémon Master. Since this goal is so close to his heart, he sometimes acts a bit rash and rushes to the next battle he can as fast as possible.


As a young child, Serena was sent to Kanto, against her will, to attend a Pokémon Summer Camp, which was hosted by Professor Oak. One day, while at the camp, she got lost in a nearby forest and was startled by a Poliwag, falling over and hurting her knee. Then, she met Ash Ketchum, who was looking for the same Poliwag and spotted Serena. Noticing her knee injury, he pulled out a handkerchief and wrapped it around her wounded knee, saying that it is a good-luck charm and that the pain would go away. However, when Serena's knee continued to hurt, Ash advised her to never give up until the end and helped her up before escorting her out of the forest. Afterwards, she returned to Kalos, bringing along the handkerchief and the memory of her meeting with Ash.


Clemont was said to be a genius when it came to Electric-type Pokémon. Prior to the XY series, Clemont became the Gym Leader of Lumiose Gym in order to understand Electric-type Pokémon better. However, he found that being a Gym Leader ate into his spare time and gave him little time to spend with his beloved inventions, so he created Clembot, a "Gym Leader robot", to stand in for him when he was busy. He programmed it to be tough on challengers and to reject challengers with less than four badges. This proved to be a mistake, as Clembot turned out to be violent and would shock Trainers whose challenge it rejected (or, as it later turned out, who lost to it) and eject them from the Gym. Clemont himself was deemed to be a rejected challenger as he had no badges. Clemont attempted to set Clembot to "Master Recognition mode" so he could reprogram it, but it hadn't registered the pass-code he expected it to, so he was ousted from the Gym and cut off from his Pokémon. He eventually gave up trying to reenter, as Clembot refused to allow him past the entrance.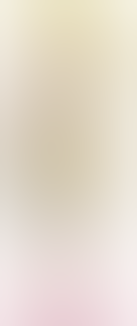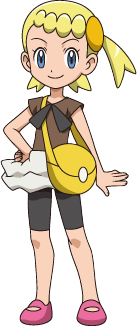 Bonnie was first seen with her brother Clemont in Lumiose City. Both were standing outside the Prism Tower when they watched Ash go inside to challenge the Lumiose Gym. When Ash was ejected out of the building, Clemont saved Ash with his Clemontic Gear while Bonnie saved Ash's Pikachu by catching him before he hit the ground. Thinking that he was cute, Bonnie hugged Pikachu, who shocked her in retaliation. Bonnie quickly apologized and explained that she is too young to have her own Pokémon and therefore always becomes excited when she meets one. Though she cannot own a Pokémon, she participates in other activities when she can. When Clemont and Ash had a battle against each other, she refereed the match for them. She later led them to Professor Sycamore's lab when Froakie was injured by Team Rocket.