Quote:
Developer:Rockstar North | Publisher: Rockstar Games| Genre: Open World Action |Release: 24 Maret 2015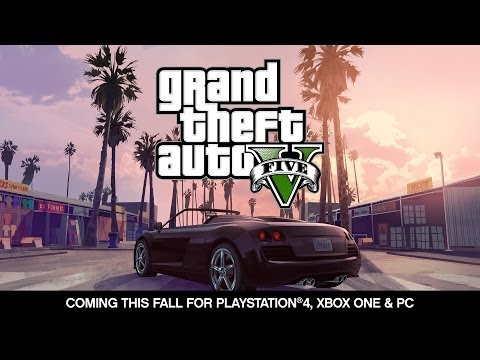 Quote:
The critically-acclaimed and record-breaking Grand Theft Auto V comes to a new generation this fall.

Grand Theft Auto V for PlayStation®4, Xbox One and PC will take full advantage of the power of new generation systems to deliver the ultimate open-world experience.

Pre-order now and visit www.rockstargames.com/V for more details
"Your thrills I find, it's not hard to be left behind. So I'll run, you'll hide, we know better than to stay outside"
Quote:
Los Santos: a sprawling sun-soaked metropolis full of self-help gurus, starlets and fading celebrities, once the envy of the Western world, now struggling to stay afloat in an era of economic uncertainty and cheap reality TV.

Amidst the turmoil, three very different criminals plot their own chances of survival and success: Franklin, a street hustler looking for real opportunities and serious money; Michael, a professional ex-con whose retirement is a lot less rosy than he hoped it would be; and Trevor, a violent maniac driven by the chance of a cheap high and the next big score. Running out of options, the crew risks everything in a series of daring and dangerous heists that could set them up for life.

The biggest, most dynamic and most diverse open world ever created, Grand Theft Auto V blends storytelling and gameplay in new ways as players repeatedly jump in and out of the lives of the game's three lead characters, playing all sides of the game's interwoven story.

All the classic hallmarks of the groundbreaking series return, including incredible attention to detail and Grand Theft Auto's darkly humorous take on modern culture, alongside a brand new and ambitious approach to open world multiplayer.

***

Grand Theft Auto V for PC will take full advantage of the power of PC to deliver across-the-board enhancements including increased resolution and graphical detail, denser traffic, greater draw distances, upgraded AI, new wildlife, and advanced weather and damage effects for the ultimate open world experience.

Grand Theft Auto V for PC also includes Grand Theft Auto Online, the ever-evolving Grand Theft Auto universe. Explore the vast world or rise through the criminal ranks by banding together to complete Jobs for cash, purchase properties, vehicles and character upgrades, compete in traditional competitive modes, or create new content to play and share with the Grand Theft Auto community.

All new content and gameplay created and released since the launch of Grand Theft Auto Online including new Jobs, an arsenal of new weapons, scores of new vehicles, new properties and player customizations will also be available in Grand Theft Auto Online for PC. In addition, the current community of players will have the ability to transfer their Grand Theft Auto Online characters and progression to their choice of PlayStation®4, Xbox One or PC.
Gak tau deh udah berapa banyak thread GTA V