[Official Lounge] Sony Xperia Z / ZL - Experience the best of Sony in a smartphone - Part 2

[Official Lounge] Sony Xperia Z / ZL - Experience the best of Sony in a smartphone - Part 2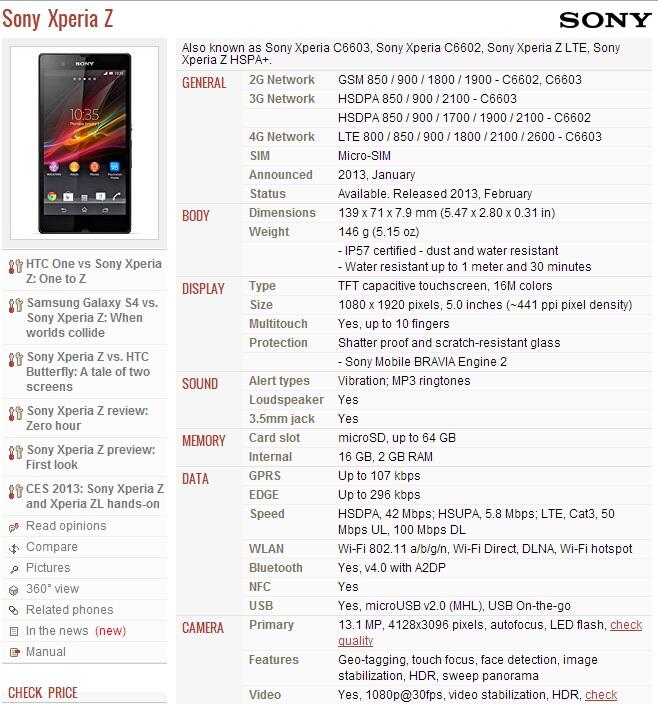 Lengkapnya
Di Sini
Introduction
Setelah 'tercecer' dalam persaingan ponsel Android papan atas karena kurang 'gahar'-nya spec untuk keperluan marketing, dan terlambatnya memasukkan Sony Xperia TX / Xperia V ke Indonesia, Sony kembali mencoba merebut momentum dengan mengumumkan flagship terbaru mereka untuk tahap awal 2013 (disebut tahap awal, karena nanti biasanya ada lagi flagship berikutnya untuk tahun yang sama).
Nah, akankah Xperia Z dan Xperia ZL akan bisa kembali merebut hati penggemar, atau kembali sekedar menjadi bahan perbincangan di awal saja, untuk kemudian lama2 dilupakan ?
Quote:
Sony unveils Xperia Z and Xperia ZL 5" 1080p flagships
Just as expected, Sony's press conference at CES 2013 was indeed mostly about Xperia Z and Xperia ZL. Both leaked numerous times before and we already knew pretty much everything there was to know about them.
Sony Xperia Z
The Sony Xperia Z runs on the latest Snapdragon S4 Pro with a quad-core 1.5GHz Krait processor, Adreno 320 graphics and 2GB of RAM. The smartphone is built around a 5" LED-backlit 1080p display with Mobile Bravia 2 Engine and has a 13MP Exmor RS camera sensor capable of 1080p video recording with HDR option at its disposal.
The Xperia Z is IP57-certified for dust and water resistance. It bets on the unibody design and has a non-removable 2,330 mAh battery.
The connectivity pretty much has it all - LTE, HSPA+, Wi-Fi, Bluetooth, GPS, NFC and FM radio. There is a microSD slot too.
The phone runs on Android 4.1 Jelly Bean and is skinned with the latest version of Sony's proprietary launcher. It will hit the shelves this March, but its pricing is yet to be announced.
Sony Xperia ZL
The Xperia ZL is a smartphone pretty similar to the Xperia Z, save for the lack of IP57 certification and the slightly different design. The Xperia ZL has its front camera placed in the bottom right corner of the front panel, has a tad smaller footprint (but thicker profile) and is slightly lighter than the Xperia Z.
The rest is pretty much the same - the 5" 1080p display, the Snapdragon S4 Pro chipset, the 13MP camera, the connectivity department, etc. Don't worry, the Xperia ZL also sports a microSD slot.
Just like the Xperia Z, the ZL runs on Android 4.1 Jelly Bean and will launch this March. The pricing is yet to be revealed. The Xperia Z and ZL will be available in different markets, but Sony refused to reveal more details on that.
Sumber : GSMArena
Diubah oleh xperia.z 21-04-2015 06:00
Yuk bergabung agar dapat lebih banyak informasi yang dibagikan di Komunitas Android