Baju BATIK Di Hina oleh Daily Mail, Sebagai Baju Paling "KONYOL"

Baju BATIK Di Hina oleh Daily Mail, Sebagai Baju Paling "KONYOL"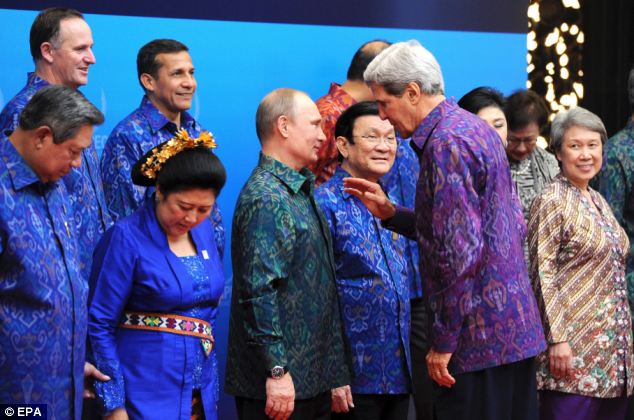 Quote:
Para pemimpin negara anggota APEC menggunakan pakaian tradisional Indonesia yaitu Batik dalam perhelatan acara Asia-Pacific Economic Co-operation Summit (APEC). Pemakaian baju tradisional ini merupakan tradisi di acara APEC.

Namun menurut media asing dailymail, para pemimpin negara anggota APEC ini memakai batik dengan kombinasi warna yang tidak nyaman di saat momen terbaik. Media ini juga menulis, pakaian tradisional dari Indonesia yang dikenakan pimpinan negara itu sebagai 'kemeja konyol' (silly shirts).

Presiden Rusia Vladimir Putin yang menggunakan batik berwarna hijau dan Menteri Luar Negeri Amerika Serikat John Kerry yang memakai batik berwarna ungu, disebut 2 yang paling konyol dengan pakai kemeja batik itu.

Kedua politisi ini pun ditulis sebagai menjaga tren dengan memakai kemeja konyol dari Asia dalam pertemuan APEC.

Meski Presiden Amerika Serikat, Barack Obama tak hadir dalam pertemuan APEC, perwakilannya Menteri Luar Negeri Amerika Serikat, John Kerry tetap menjaga spirit dalam pertemuan itu.
Spoiler

for

Berikut Batiknya

: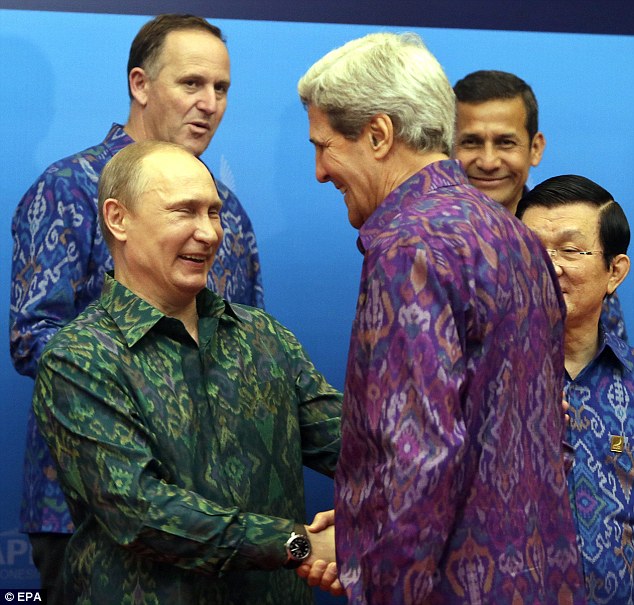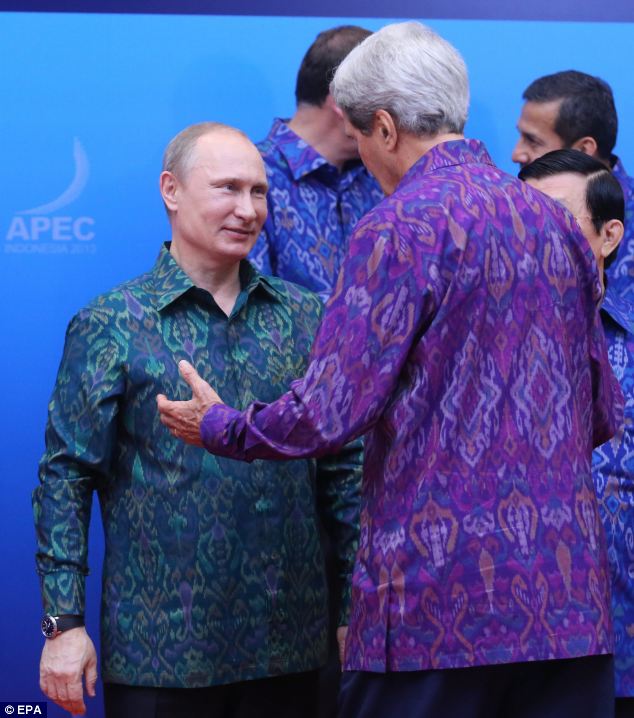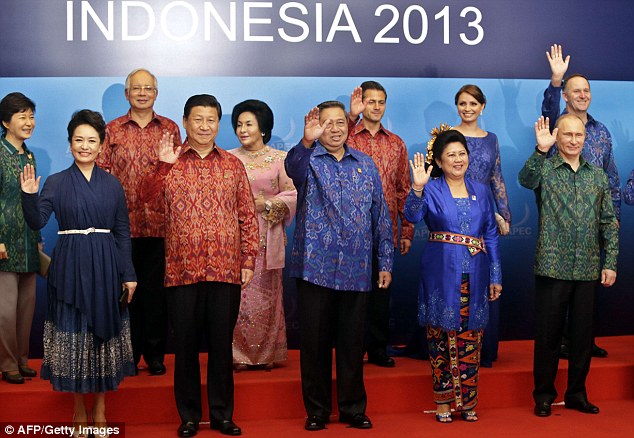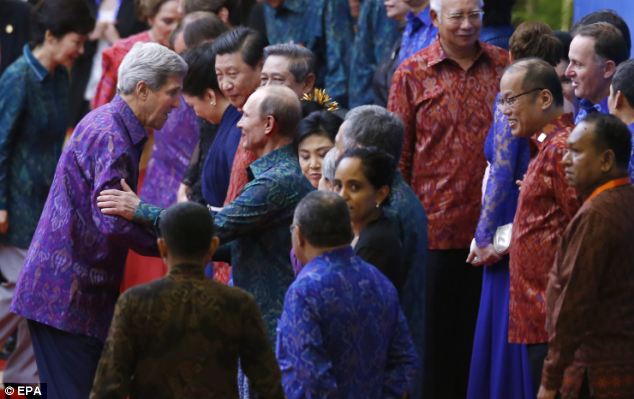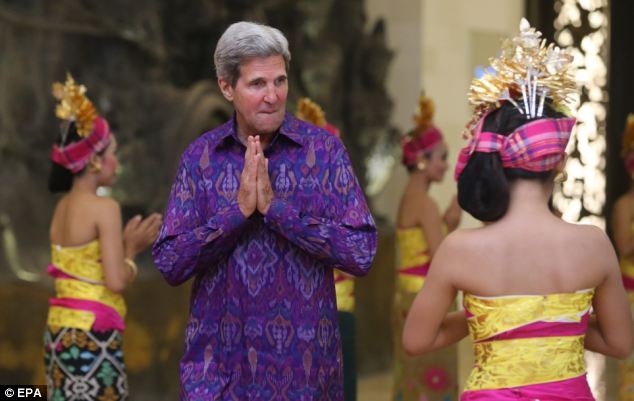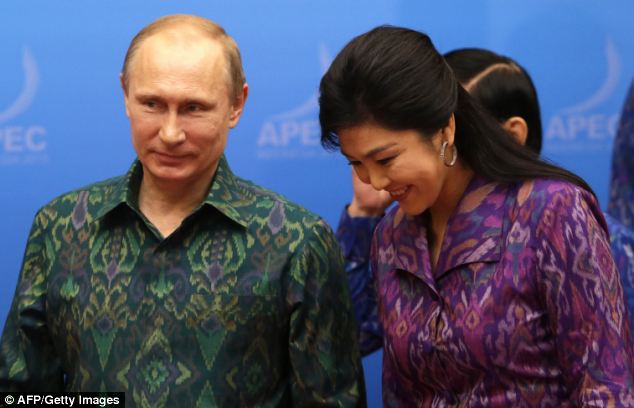 Quote:
Quote:
Komentar dari DailyMail :
They are an uncomfortable combination at the best of times.

But today, Russian President Vladimir Putin and US Secretary of State John Kerry took the ancient clash of East and West to a new level, by wearing clashing shirts to an economic summit in Indonesia.

The two politicians were keeping up the 'silly shirts' trend of the Asia-Pacific Economic Co-operation Summit (APEC) by wearing traditional Indonesian clothing - bright green for Mr Putin and purple for Mr Kerry.

Although Barack Obama was being kept busy at home by the ongoing US government shutdown, Mr Kerry embodied the spirit of the regional conference on behalf of the United States in sporting his shirt, which was designed in the Indonesian city of Bali put produced in China.

World leaders attending the conference in recent years, characterised by economic hardship, had skipped on the fancy dress in favour of more traditional businesswear, but the vibrant outfits were back for the summit's latest meeting.

The shirts - made of the native Indonesian fabric endek - were also sported by Chinese Preisdent Xi Jinping and Indoenesian leader Susilo Bambang Yudhoyono for the dinner that officially kicked off the meeting.

"After an already busy first day, and tomorrow's tight schedule, let us relax, enjoy the dinner and cultural performance tonight," Mr Yudhoyono said before a gala performance that featured barefoot Balinese dancers and, later, a full-throated rendition of Gangnam Style by two male singers.

The Indonesian premier had already lightened the mood from serious discussion by bringing out his guitar yesterday to serenade Mr Putin.

Mr Yudhoyono, who has a series of albums of love songs to his name, strummed Happy Birthday in honour of the Russian leader's 61st birthday , cheered on by China's leader.

'It was a surprise,' Mr Putin said later to Mr Yudhoyono, adding 'terima kasih', Indonesian for 'thank you'.

The light-hearted tradition of local dress was started in Seattle by President Bill Clinton in 1993, when he handed out leather bomber jackets to visiting leaders in Seattle.

Blue-and-gold South Korean silk overcoats called durumagi were the order of the day in Busan, South Korea, in 2005.

The following year, President George W Bush and Putin donned flowing silk ao dai tunics in Hanoi, Vietnam.

The Balinese designer who made the APEC shirts, Ida Bagus Adnyana, said that the particular pattern used for the leaders 'symbolises harmony and balance'.

Quote:
TS : Kagak Usah ditanggapi terlalu serius, ingat..!!! ORANG SIRIK TANDA TAK MAMPU..!!


Dan Harian ini (DailyMail) selalu menulis berita miring tentang Indonesia

Quote:
Pernyataan Dari Corcoran :
Quote:
Original Posted By
MichaelQiu
►
kieran corcoran <kieran.corcoran@mailonline.co.uk>
1:08 AM (7 hours ago)
to me, editorial
Dear Michael,
Thank you for emailing about the article mentioned below, to do with Vladimir Putin and John Kerry appearing at the Asia-Pacific Economic Co-Operation summit.
Firstly, I'd like to say that I did not in any way mean to insult the Indonesian Batik or offend anybody in Indonesia. My article had a light-hearted tone and was meant only to add some human interest into what might otherwise seem a dry economic conference.
The correspondent I worked with on this story had described the tradition of wearing local dress as the 'silly shirts' tradition. I used the quotation marks around it to show that they were not my words – I do not think myself that Batik is silly, but it is part of my job as a reporter to show how the tradition is perceived. I believe the people who use the term are only pointing out that it is a new way for most Western people to see politicians doing their business, as they usually wear very sombre suits. I do not think they mean any offence by the term.
In fact it refers to the whole tradition of costume as the conference, which includes previous meetings in Vietnam and South Korea as well as American bomber jackets, so I would like to point out that I was not singling out the Batik in particular. I am sorry if it seemed that way to you. Thank you for the link you provided – I have read the information provided and now understand more about the garment, though I did attempt to convey its significance and means of production in the original article.
You mention that we mock Mr Putin and Mr Kerry in the article. While I do not think we were unfair to the men in question, how they men interact is of great interest to our readers, and it is a normal part of how newspapers such as the Daily Mail cover international events to treat even very important politicians as occasional figures of fun. I might go so far as to say that Mr Putin brings it upon himself with his very stylised self-image. I believe it entertains our readers to have some fun with this, and counts as fair comment on our behalf.
I hope you will continue to read the Daily Mail in future as our international coverage continues to expand.
All the best,
Kieran Corcoran
______________________________________________________________________
From: Michael - [mailto:michael@padasa-peu.com]
Sent: 16 October 2013 04:29
To: Editorial Dailymailonline
Subject: A Little Hope of Reader for Daily Mail
Dear Daily Mail,
Please kindly to recheck your writing on News Mail Online which topic is :
'Look, it's MY turn to wear a loud shirt': Putin and Kerry square up again at international summit (or are they just discussing their clashing outfits?)
Read more:
http://www.dailymail.co.uk/news/arti...#ixzz2hrzFv7XR
Don't you guys think all of you are writing disturbing words ?
Which part of Batik do you mean silly shirt?
First the silly shirt word probably a joke , otherwise you have to know Batik is Indonesian Traditional Clothing that is honor by Indonesian People so you will not making a bad joke.
For more information of Batik please browse this link below,
http://www.unesco.org/culture/ich/RL/00170
Second, the word "The two politicians were keeping up the 'silly shirts' trend of the Asia-Pacific Economic Co-operation Summit (APEC)"
show that Daily Mail is mocking the two politicians.
Last, I hope Associated Newspapers Ltd to recheck are Daily Mail Journalist qualified or not. Words are free to write for everyone, but smart people will not write words that humiliate others. Show us Daily Mail is a Great Media not just in United Kingdom but The World.
Thanks and Regard,
Your Reader.
______________________________________________________________________
This email has been scanned by the Symantec Email Security.cloud service.
For more information please visit
http://www.symanteccloud.com
______________________________________________________________________
______________________________________________________________________
This e-mail and any attached files are intended for the named addressee only. It contains information, which may be confidential and legally privileged and also protected by copyright. Unless you are the named addressee (or authorised to receive for the addressee) you may not copy or use it, or disclose it to anyone else. If you received it in error please notify the sender immediately and then delete it from your system.
Associated Newspapers Ltd. Registered Office: Northcliffe House, 2 Derry St, Kensington, London, W8 5TT. Registered No 84121 England.
Diubah oleh telenji200772 17-10-2013 03:05
Yuk bergabung agar dapat lebih banyak informasi yang dibagikan di Komunitas The Lounge

The Lounge
920.7K
Thread
•
76.4K
Anggota