Makna warna2 label pedal BOSS (Compact pedal labels) - Kaping Pisan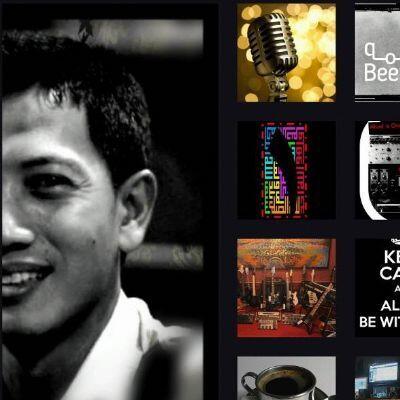 Makna warna2 label pedal BOSS (Compact pedal labels) - Kaping Pisan
Ijin sharing krn sebelumnya sy jg pnasaran ttg ginian..
tp sori bngd smntara ini baru bs copas, blm sempet nerjemahin gan..
kl ada yg bsedia nerjemahin pasti akan sngd bmanfaat bagi umat negri ni sejagad.. hhehehee..
Penjelasan dmulai..
This page shows pictures of all bottom labels used on compact pedals so far. I have named these Type 1, Type 2 and so on. If the only difference between two labels is
the colour, the labels measurements, AC adaptor type or the country of origin (Made in Japan or Taiwan)
, the pedal type is appended with a letter forming names like Type 2A, Type 2B or similar. An exception was made for the
PSM-5 labels
which are all Type 7 regardless of the text contained on the label.
Halaman ini nunjukin gambar2 dari smua label yg ada d bwh pedal slm ni. Ane namain Tipe 1, Tipe 2 dan sterusnya. Jk pbedaan antara 2 label hanya pd warnanya, ukuran labelnya, tipe adaptornya ataupun negara pmbuatnya (Jpg/Taiwan), maka tipe pedalnya ane tandai dg huruf scr urut, yaitu Tipe 2A, Tipe 2B dst gt deh... kecuali utk label PSM-5, semuanya ane masukin ke Tipe 7, tanpa menghiraukan kata2 yg tertera pd label.
Analog pedals without BBD integrated circuits.
Up until 1984 all Boss pedals (BBD circuit or not) had black labels that you can find in this first set below. From 1984 the black and silver labels were used only on analog pedals without BBD circuits.
Spoiler

for

Analog pedals without BBD integrated circuits

: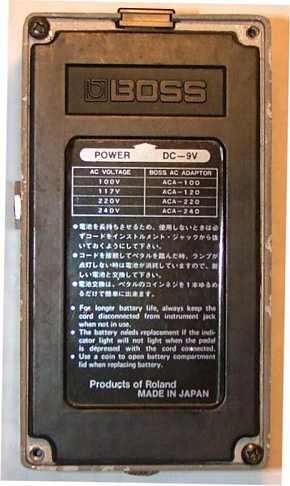 Type 1
This is the first compact pedal label. It was used from serial number 6400 to around serial number 9800.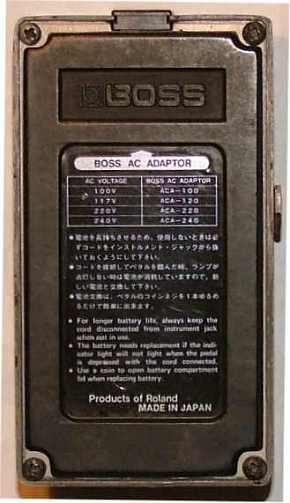 Type 2
The difference between Type 1 is the white line at the tope which reads Boss AC adaptor instead of Power DC-9V. Note, it is not uncommon to find this label on pedals with the black thumb screw.
Used from 1977 to 1981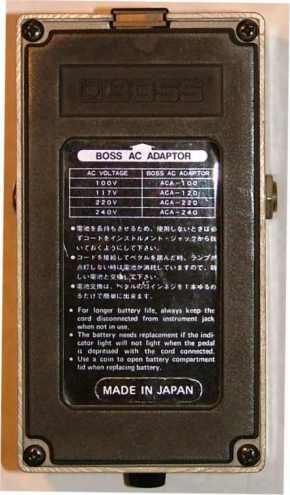 Type 2A
"Made in Japan" is printed on a sticker.
Used for a short time, early 1982 on pedals with serial number 15xx00 or 16xx00.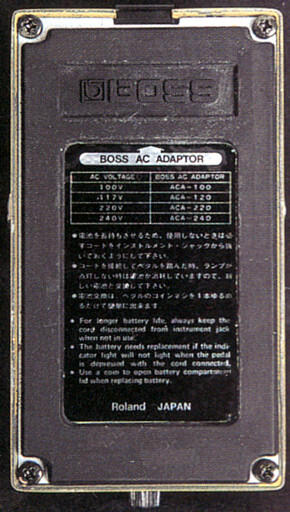 Type 2A
This is the same label as the one to the left.
If the sticker is removed, the underlying
label displays Roland Japan.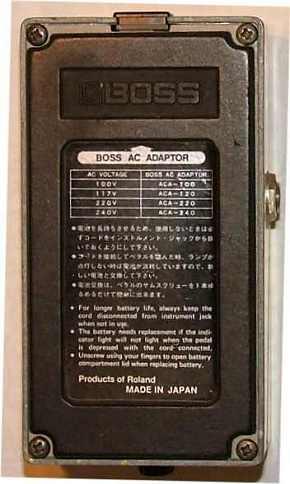 Type 3
Last bullet point reads "Unscrew using your fingers..."
Used from 1981 to 1989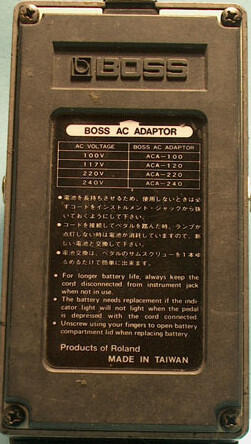 Type 3A
Same as Type 3 but Made in Taiwan.
Used on early Taiwan made pedals like the OD-2 and HM-2 during 1988 and 1989.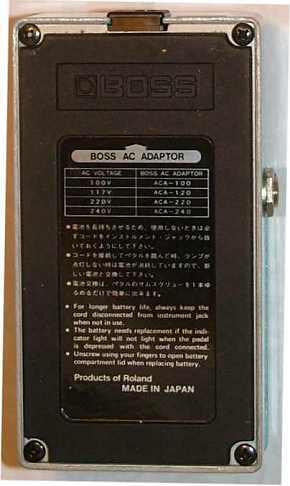 Type 3B
Identical to type 3 but the label has been made a little longer to accommodate a serial number sticker. The pedal pictured was an early pedal with the serial number in the battery compartment.
Used around 1988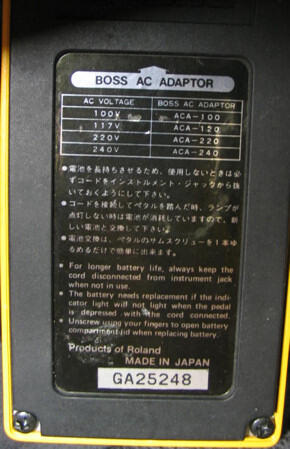 Type 3B
This picture shows a label of type 3B with a serial number sticker attached. Used on pedals made in Japan up until 1992.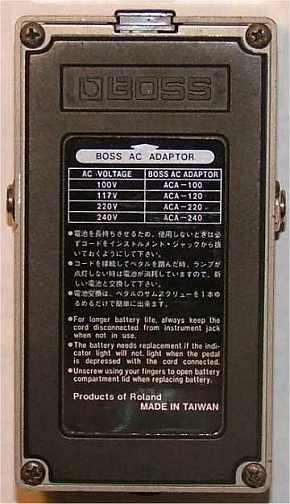 Type 3C
This is the same label as 3B but it says Made in Taiwan at the bottom instead of Japan.
Used between 1989 and 1995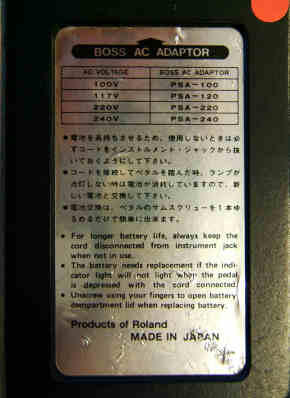 Type 3D
The silver label was introduced to keep apart pedals made for the ACA power supply with pedals made for the PSA power supply.
Used on early DS-2s.
Used 1988 and 1989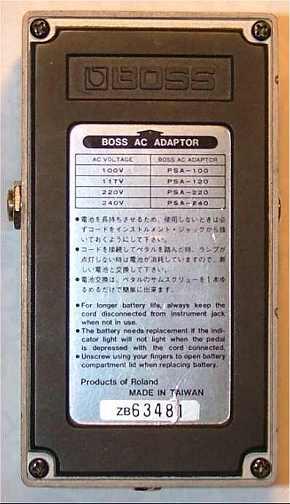 Type 3E
This is the Taiwan version of type 3D. It was used from 1989 until 1995.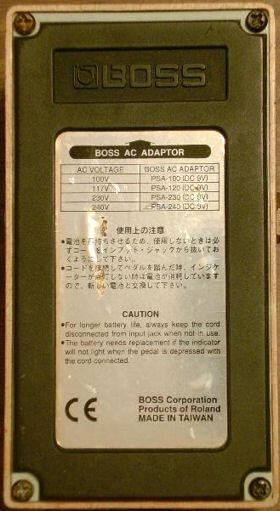 Type 4
The third bullet point is gone and the pedal has the CE logo. The serial number sticker at the bottom has been scratched off the label pictured.
Used 1995 and 1996.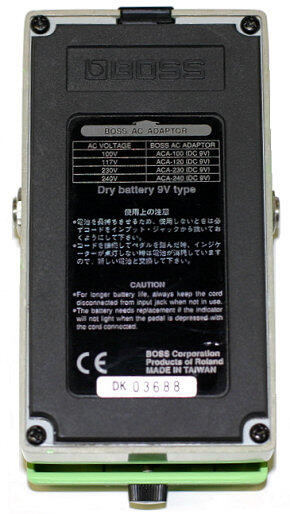 Type 5
The last version of the black label. The difference from Type 4 is the addition of the text "Dry battery 9V type" under the adaptor information.
Used from December 1995 to 1997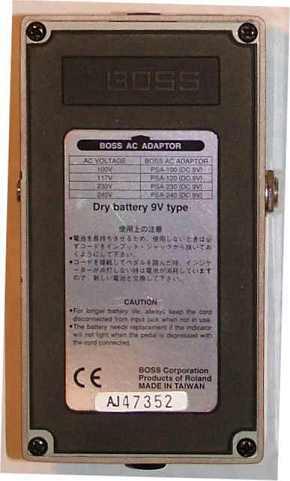 Type 5A
Silver label PSA adaptor version of Type 5.
On pedals made between late 1997 and July 1999, you might find a black sticker at the bottom of this label saying N225.
Used from 1996 to 1999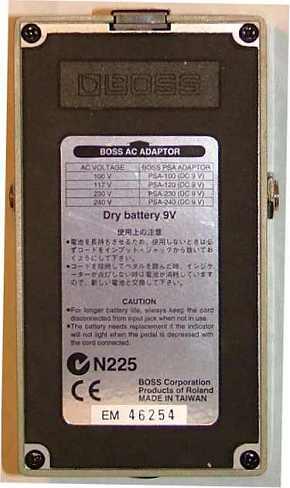 Type 6
The N225 logo has been added to the label. Also notice that the word "type" has been removed from "Dry battery 9V type".
Used from 1999 to 2006.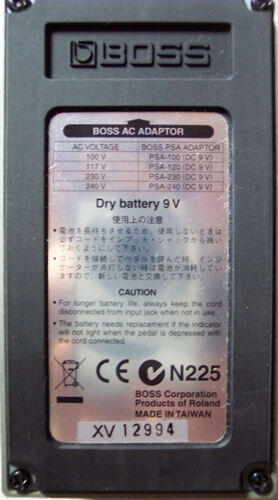 Type 7
The current version of the silver label has the recycle bin indicating that the pedal is RoHs and WEEE compliant.
Used from March 2006.
PSM-5 labels.
Spoiler

for

PSM-5 labels

: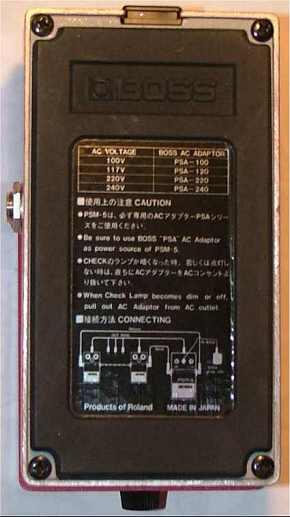 Type 8
Found on the first PSM-5 pedals.
Used from 1983 to 1985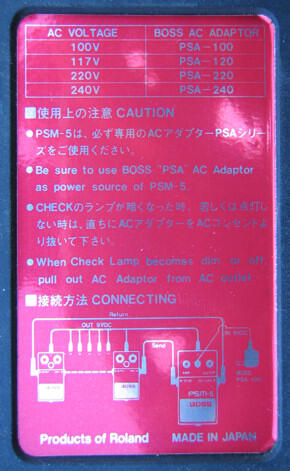 Type 8A
All other black label pedals are made for the ACA adaptor so Boss decided to change the PSM-5 label colour to red in 1985.
Used from 1985 to 1988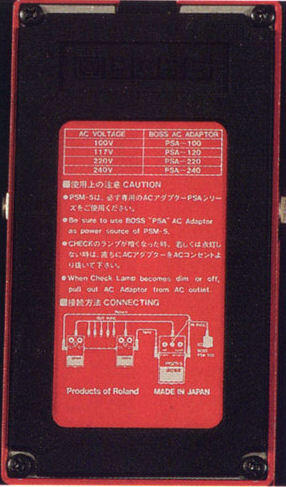 Type 8B
Same as 7A but a little longer with space for a serial number.
Used from 1988 to 1992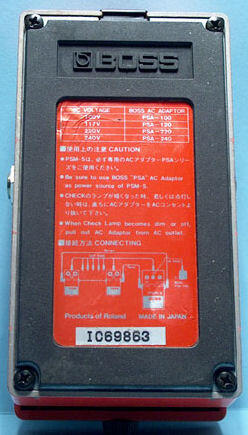 Type 8B
Another picture of label 7B. This one has a serial number sticker at the bottom.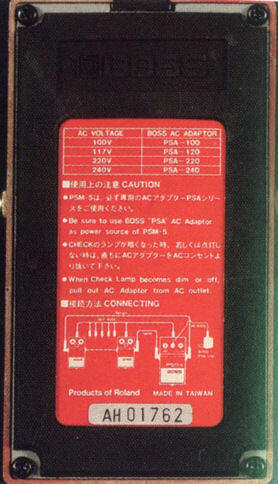 Type 8D
Same as 7B but Made in Taiwan.
Used from 1992 to 1995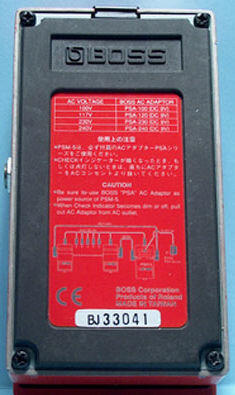 Type 8E
CE logo added.
Used 1996-1997.
Karena artikel kepanjangan dan dbatasi mk kita lanjut ke "Kaping Pindo" alias bagian kedua...
Lewat sini gan..
Makna warna2 label pedal BOSS (Compact pedal labels) - Kaping Pindo
Sumber:
bossarea.com
Seberapa bermampa'ad artikel ini buat agan2
Diubah oleh crunchcrunch 21-04-2013 16:49
Yuk bergabung agar dapat lebih banyak informasi yang dibagikan di Komunitas Help, Tips & Tutorial Music

Help, Tips & Tutorial Music