eksekusi politisi yang gagal gan, lagi live

eksekusi politisi yang gagal gan, lagi live
dapet berita dr dailymail, ada pejabat/politisi lagi pidato tiba-tiba da orng yg naek podium dan nembak kepala yg lagi pidato, untung nya pistol nya ga nembak, ngeri klo pistol nya nembak.
berita nya gan
Quote:
Original Posted By dailymail

A Bulgarian politician today survived an extraordinary assassination attempt when a man stormed the stage and held a gun to his head as he was giving a speech.
Fortunately for Ahmed Dogan, leader of the Movement for Rights and Freedoms, the weapon misfired giving him time to react and hit the would-be assassins hand out of the way.
Before he can attempt a second shot the unidentified suspect is tackled to the ground by security guards and delegates attending the conference in Sofia.


Television footage showed the man jumping out of the audience and interrupting a speech by 58-year-old Dogan, who has led the party for almost a quarter of a century.
In a split second, he raises the gun to Mr Dogan's head but it appears to misfire.
The politician then knocks gone the gun away and falls to the floor as he attempts to flee.
Security guards and delegates rush onto the stage where they wrestle the attacker to the ground.
A separate group surrounds a shocked Mr Dogan in a protective shield.
Politicians then appear from the audience and begin raining blows on the suspect as he is pinned to the ground.
He was later pictured being taken away by police bloodied and bruised.
'Ahmed Dogan is in good health. Everything is under control,' Movement for Rights and Freedoms official Ceyhan Ibryamov told journalists.

Police said they arrested a 25-year-old man from the Black Sea town of Burgas who was also carrying two knives.
The liberal MRF party represents ethnic Turks and other Muslims who make up about 12 percent of Bulgaria's 7.3 million-strong population.
Dogan is seen as one of Balkan country's most influential political figures.
Two years ago he was acquitted after a high-profile corruption trial into payments he received as a consultant for a hydro power project.
The MRF was a junior partner in the previous Socialist-led cabinet before switching to the opposition following the 2009 elections.
In 1996, former Prime Minister Andrei Lukanov was found shot dead near his home in Sofia, though attacks on politicians are rare.


penampakan nya gan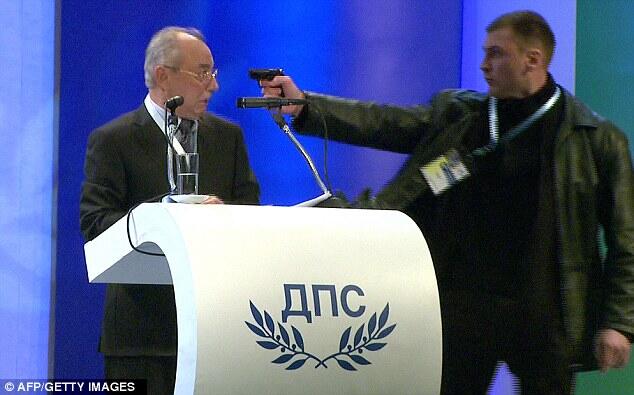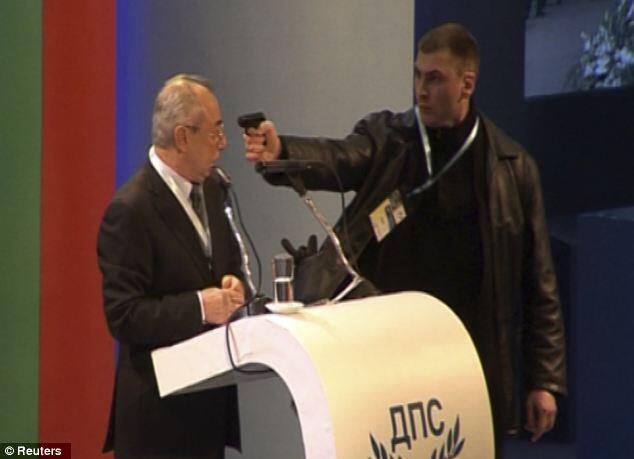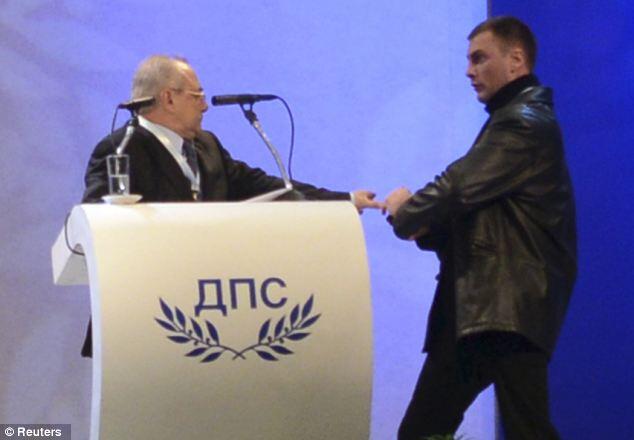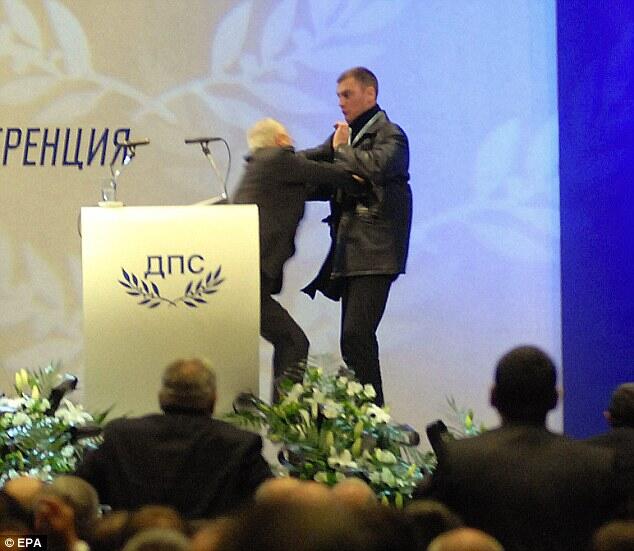 sumber nya gan
http://www.dailymail.co.uk/news/arti...h-live-TV.html
http://www.thesun.co.uk/sol/homepage...olitician.html
youtube nya gan
http://www.youtube.com/watch?feature...&v=lfTnp39Xxw0
Quote:
Original Posted By
Victor.Reznov
►
pidionya, gan...

Diubah oleh KASKUS.Editor 21-01-2013 22:44
Yuk bergabung agar dapat lebih banyak informasi yang dibagikan di Komunitas Berita Luar Negeri