iDiscuss, Share, & Troubleshooting OS X 10.7 Lion

iDiscuss, Share, & Troubleshooting OS X 10.7 Lion
Quote:
NEWEST UPDATE:
25 Feb 2011
- OSX Lion Preview Released, check out at
post no 3
30 Mar 2011
- OSX Lion Preview Dev 2 Released
15 Mei 2011
- Download Wallpaper Mac OSX Lion,
post no 3
20 Juli 2011
- OSX Lion officially launched, go to [url]www.apple.com/macosx/[/url] ditunggu reviewnya gans

Quote:
setelah ngobrol sedikit dengan om knight saya memutuskan untuk membuka thread ini
untuk menampung semua diskusi tentang
Mac OSX 10.7 Lion
yang akan launching Summer 2011
thread akan selalu diupdate begitu ada informasi baru mengenai OSX Lion
THREAD RULES:
1. Hanya diperkenankan share berita/tanya-jawab/diskusi OSX 10.7
2. selain itu silakan menuju room lain, cek
FORUM INDEX
3. no junk / OOT

:
Quote:
THREAD CONTENTS
1. What's New?post #1
2. News About Lion post #2
3. User Reviews post #3
4. Lion Downloads post #4
5. Lion Tips & Tricks post #5



What's New on OSX Lion?
Spoiler

for

"Lion Features, part 1"

:
Mac OS 10.7 Lion akan terasa bener-bener baru dan jauh berbeda dari 10.6 Snow Leopard,
hampir kesemua fitur baru mirip dengan iOS 4
Seperti dilansir web Apple, pembaruan antara lain :
Quote:
Quote:
1. Mac App Store[Status: RELEASED!!]
Quote:
Mac App Store sudah bisa diperoleh dengan cara Software Update langsung dari menu Apple, atau download
Combo Update
link di web Apple:
Mac App Store
Apps keren yang dapat dibeli di Mac App Store
Tutorial cara update ke 10.6.6
by DemonicZeus
Quote:
Introducing the best place to discover and buy new apps made just for Mac, right on a Mac. Just like shopping the App Store on iPad, the Mac App Store offers endless possibilities to browse and purchase apps. And it simplifies the way you install apps on the Mac. Just click once, and your new app is downloaded, installed, and ready to go.
Quote:
Pros & Cons
[+]
App Store ini dapat diakses menggunakan account iPhone dan iPad, jadi semuanya bisa didownload hanya dengan satu account Mac saja.
[+]
Jika update tersedia, Mac akan langsung memberitahukan untuk anda, kemungkinan semua apps tidak lagi akan mengeluarkan popup minta update, tapi cukup dalam Mac App Store ini.
[+]
Mau clean install? atau beli Mac baru? dengan App Store ini kita tinggal login dan mendownload ulang apps yang sudah kita beli sebelumnya.
UPDATED:
[+]
aplikasi keren Apple seperti Pages, Numbers, Keynote sekarang bisa dibeli terpisah tanpa harus beli satu set iWork, buy only what you need

:
Spoiler

for

"Mac App Store"

:
App Store pada iOS 4 :
Quote:
Quote:
2. Launchpad
Quote:
The Launchpad gives you instant access to your apps — iPad style. Just click the Launchpad icon in your Dock. Your open windows fade away, replaced by an elegant, full-screen display of all the apps on your Mac. It takes just a swipe to see multiple pages of apps, and you can arrange apps any way you like by dragging an app icon to a new location or by grouping apps in folders. Downloaded an app from the App Store? Your new app automatically appears on the Launchpad, ready to blast off.
Quote:
Berbeda dengan apps pada Snow Leopard yang terdapat sebagai folder pada Dock, Launchpad merupakan list apps dalam beberapa halaman, mirip banget dengan iOS 4, bahkan pada foldernya sekalipun

Pros & Cons
[+]
Apps yang baru didownload dari App Store langsung muncul disini
[+]
Terorganisir dalam pages dan folders (pada iOS dikenal dengan Springboard)
[+]
Mudah dikontrol dengan swipe beberapa jari
Pages :
Folders kalo dibuka :
Folder pada iOS 4: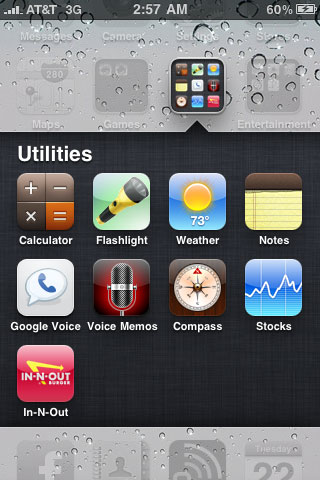 Quote:
Quote:
3. Full Screen Apps
Quote:
On iPad, every app is displayed full screen, with no distractions, and there's one easy way to get back to all your other apps. Mac OS X Lion does the same for your desktop. You can bring an app to full screen with one click, switch to another full-screen app with a swipe of the trackpad, and swipe back to the desktop to access your multi-window apps. And systemwide support for full-screen apps makes them bigger and more immersive. So you can concentrate on every detail of your work, or play on a grander scale than ever before.
Quote:
Banyak apps baru akan berjalan secara default pada fullscreen mode
Pros & Cons
[+]
Lebih berkonsentrasi pada app yang sedang dikerjakan
[+]
Bisa switch ke fullscreen dengan swipe jari
[-]
Again, sangat mirip iOS, tapi iOS hanya punya satu tombol, bagaimana dengan Mac nantinya?

Spoiler

for

"Full screen apps"

:
Quote:
Quote:
4. Mission Control
Quote:
Mission Control is a powerful and handy new feature that provides you with a comprehensive view of what's running on your Mac. It gives you a bird's-eye view of everything — including Exposé, Spaces, Dashboard, and full-screen apps— all in one place. With a simple swipe gesture, your desktop zooms out to Mission Control. There you can see your open windows grouped by app, thumbnails of your full-screen apps, Dashboard, and even other Spaces, arranged in a unified view. And you can get to anything you see on Mission Control with just one click. Making you the master of all you survey.
Quote:
Mission Control posisinya lebih tinggi dari Expose & Spaces, juga mencakup Dashboard dan apps yang berjalan
Pros & Cons
[+]
Semakin mudah switch antara apps, desktop, atau dashboard
[-]
Sebenernya penting banget nih, kok baru dibikin sekarang?

Spoiler

for

"Mission Control"

:
== Update per 22/10/10
Quote:
Quote:
5. Invisible Scrollbar!!
Quote:
In addition to the new Mac App Store, Federighi's demonstration also revealed the new scroll bar behavior in less exciting apps, including Dictionary, which he briefly opened up while showing LaunchPad. Dictionary opened with the same new tiny, trackless iOS-like grey scroll bar that then disappeared after a moment.
iPhoto 11 also launched with no visible scroll bar, despite having more than a single window of content. When taken full screen, the app continued to have no visible scroll bar. The existing version of iPhoto running on Mac OS X Snow Leopard always reserves a column for the scroll bar, even when there's no need for one (below). Safari and iCal also both appeared without scroll bars in the demo.
source
Quote:
Kalo melihat lebih seksama, setiap apps di Lion terlihat tidak memiliki scrollbar sampai kita memang mengarahkan pointer kesana dan akan scrolling.
Pros & Cons
[+]
very nice, scrollbar muncul kalo memang dibutuhkan

:
[-]
akan membingungkan pengguna awam yang mengira apps tersebut tidak bisa scroll

Spoiler

for

"Lion Scrollbar"

:
Quote:
Original Posted By
pacarnya.wekwok
►
Top 10 Secret Features In Mac OS X Lion
http://www.gizmodo.com.au/2011/07/to...mac-os-x-lion/
Yuk bergabung agar dapat lebih banyak informasi yang dibagikan di Komunitas Mac OSX Info & Discussion

Mac OSX Info & Discussion